In Cortex, teams are the groups that own different services in the catalog. With the hierarchy feature, you can create departments and organize these teams. Departments do not own services, but they do serve as a way to represent individuals or groups of teams for reporting purposes.
To access hierarchy, select Teams from the navigation bar, then select Hierarchy from the menu bar.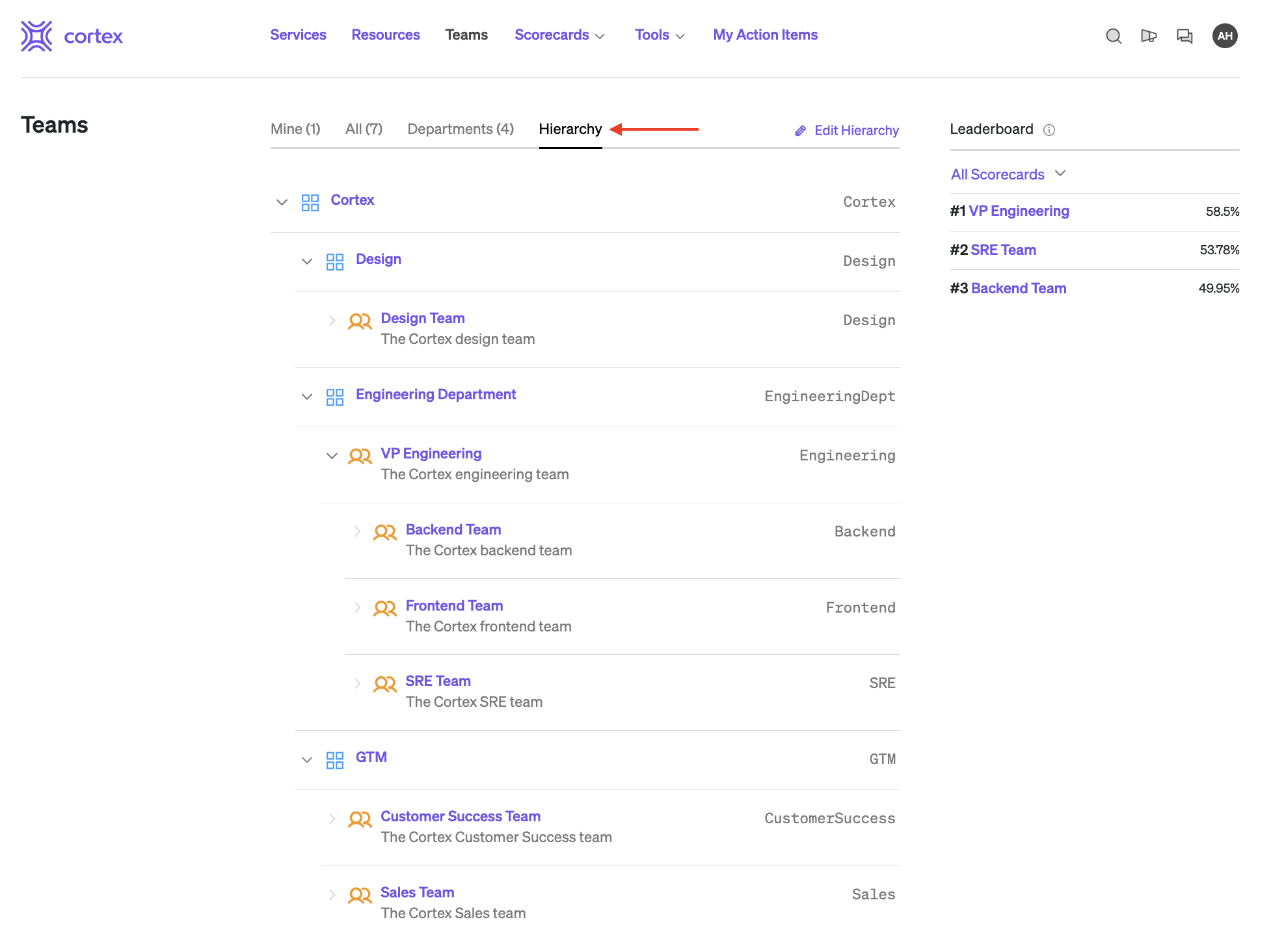 In the above example, Cortex, Design, Engineering Department, and GTM are all departments, which represent a larger group. The Design Team, VP Engineering, Backend Team, Frontend Team, SRE Team, Customer Success Team, and Sales Team are all service owners nested within departments or other teams.
When you're creating your Hierarchy, consider whether the group has dedicated members who own services. If so, the group is a team; if not, it's a department. You may create a department with just one team, like with Design in the above example, and leave room for growth. Or, the Design Team could exist on its own level.
You can edit your hierarchy at any time so it accurately represents the structure of your organization. To create or edit a hierarchy, click Edit Hierarchy in the menu bar.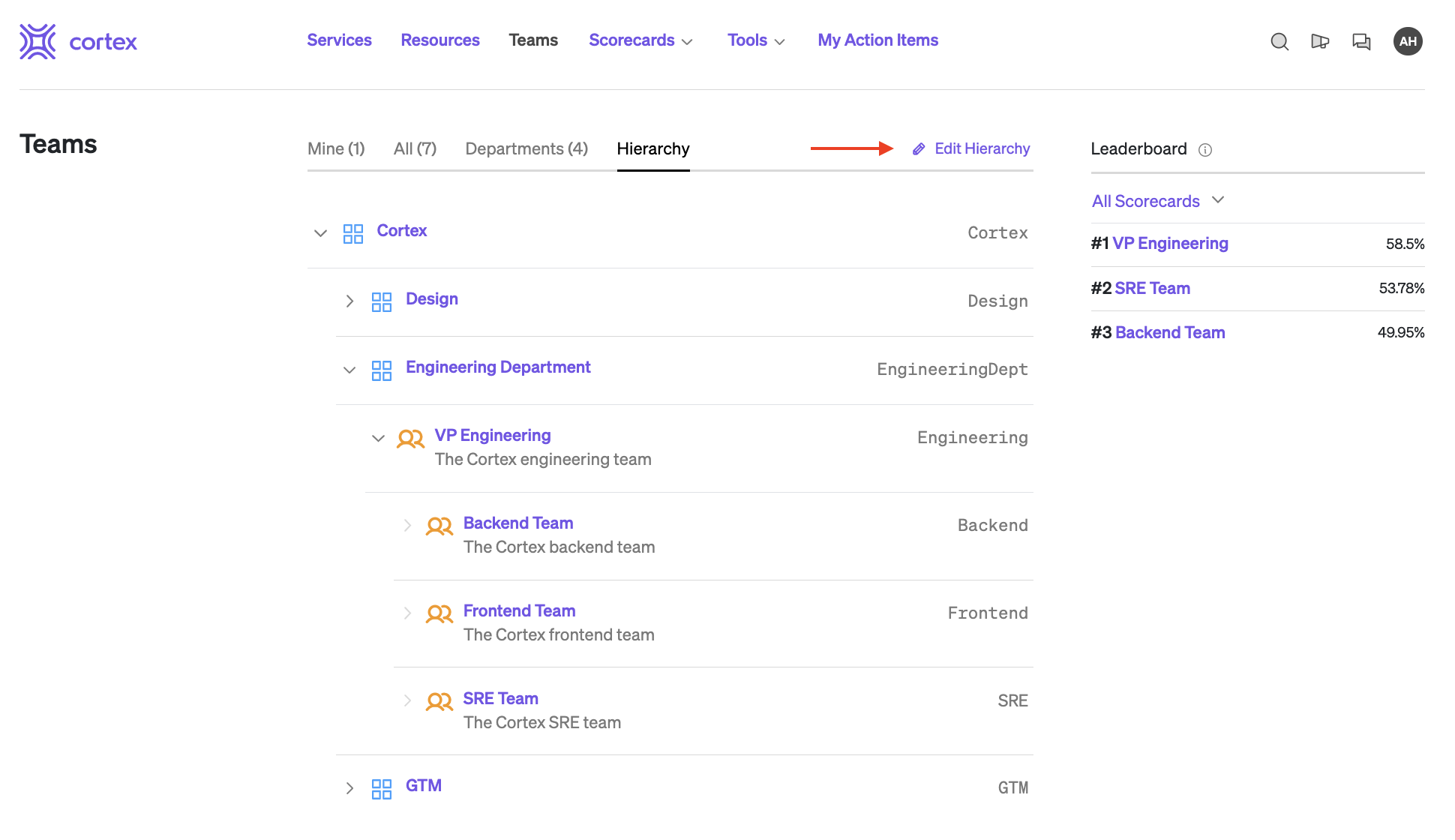 To add a node at the highest level, select Add to root. Any teams that have not been included in the hierarchy will appear under Available Teams.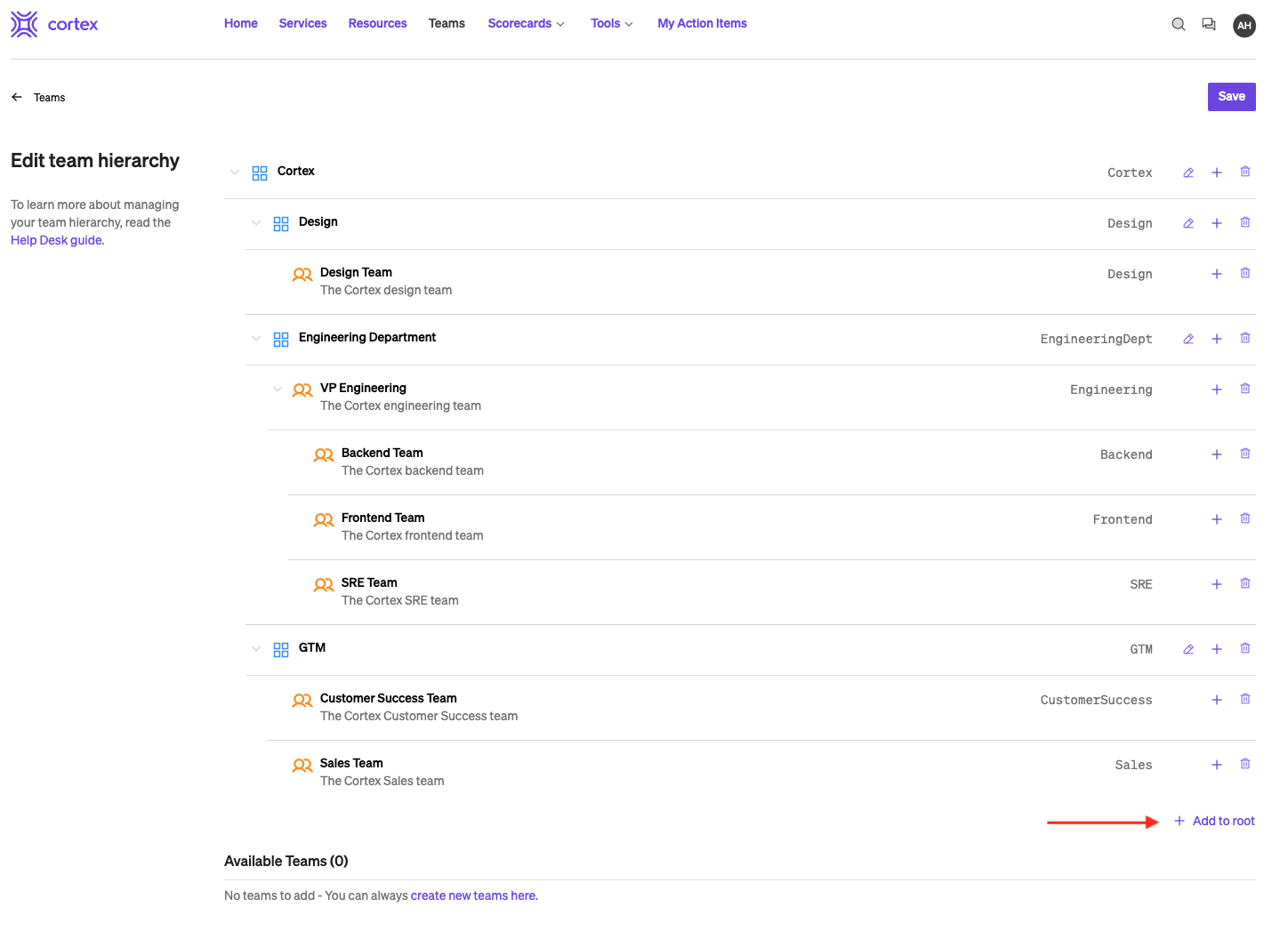 Adding nodes
When you select Add to root, a modal window will open. If you're adding a team to your hierarchy, then select Existing team(s).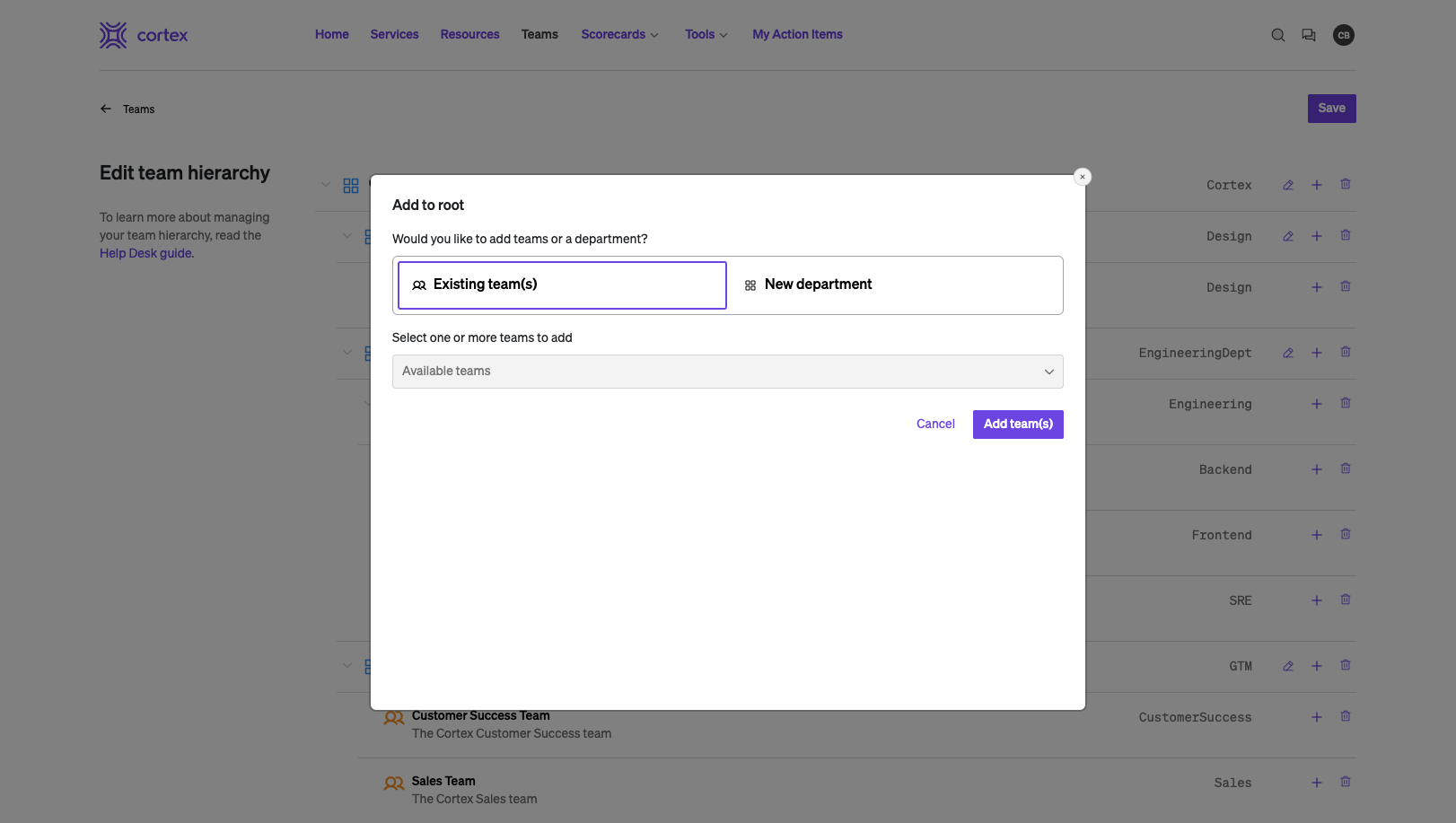 In the dropdown menu, you'll find all of the teams that exist in Cortex that have not already been added into your hierarchy. You can select one or more teams at this stage, so you can nest multiple teams within a department at once.
Select New department to add a department to your hierarchy.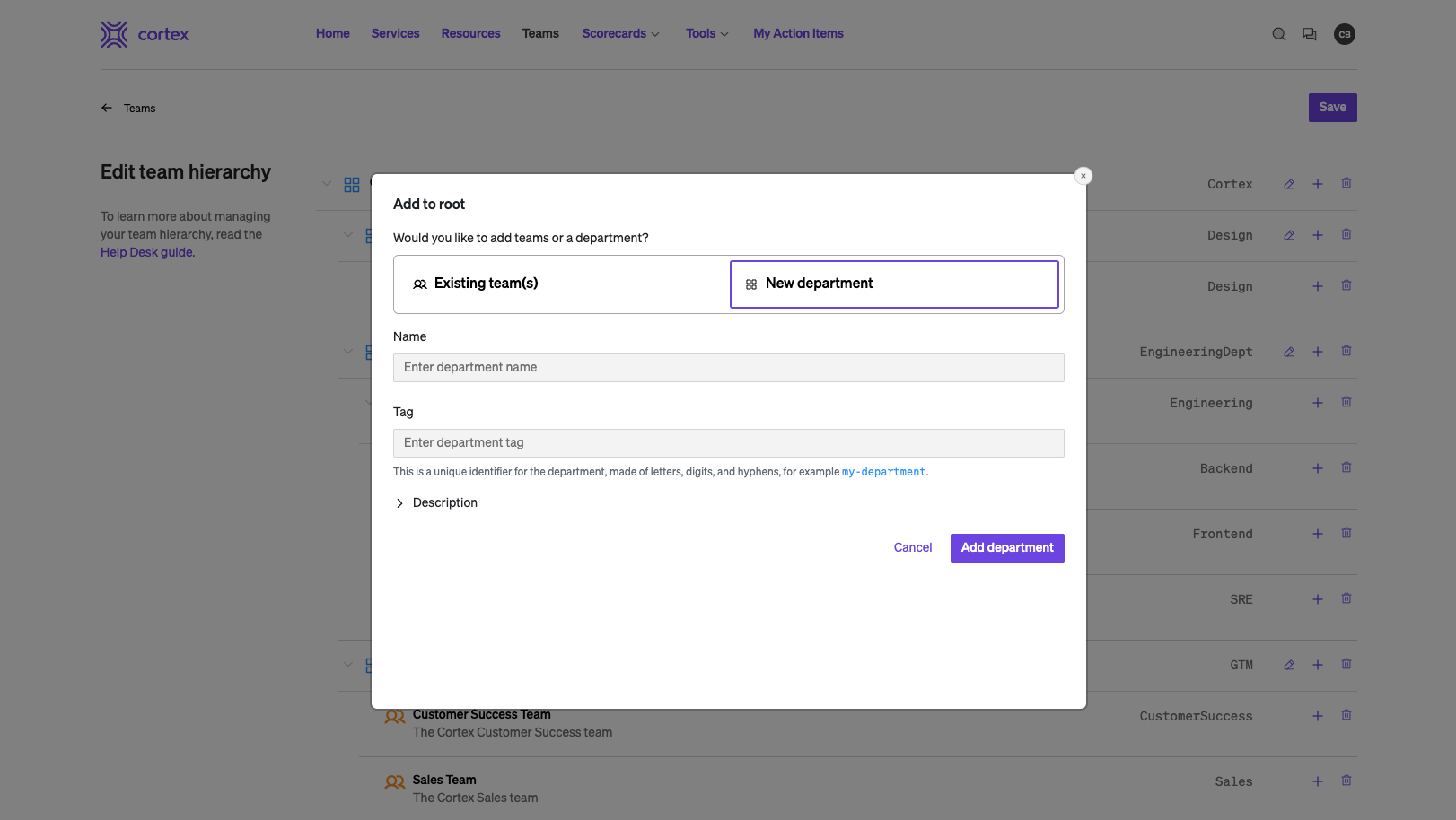 Here, you can enter the name, tag, and optional description for your department. If you need to update department members or add nodes through an API, you'll use the tag created during this step to refer to this department. Cortex will automatically suggest a tag based on the name, but you can modify the tag before adding the department.
Once you select Add department, a new node will appear in your hierarchy. You can edit a department at any time from this page by clicking the pencil icon. Note that teams do not have an edit option because those pages are edited through Teams.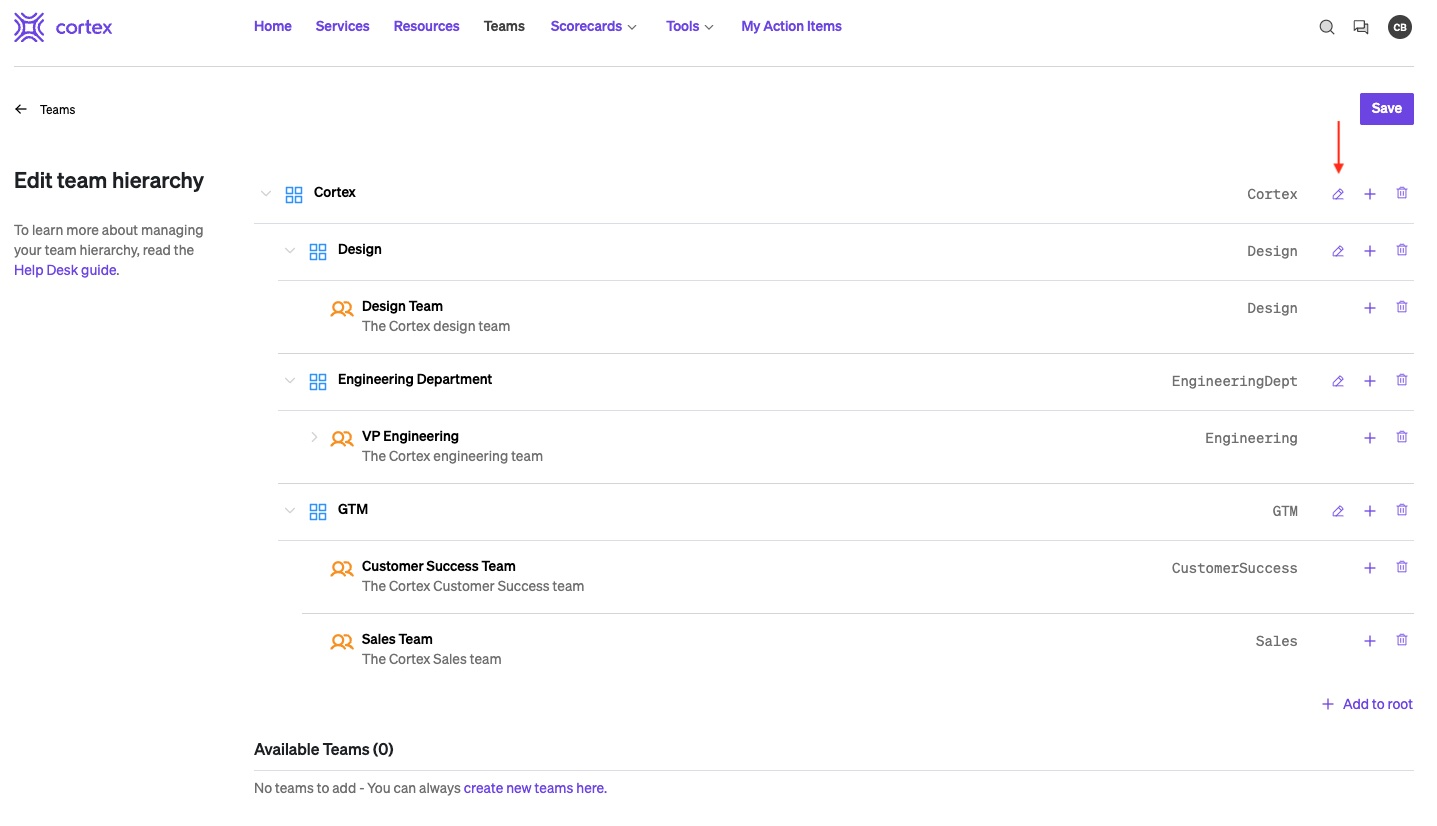 After the department has been created, you cannot change the tag, but you do have the ability to edit the department's name and description.
To add children to a node, select the + (plus) icon.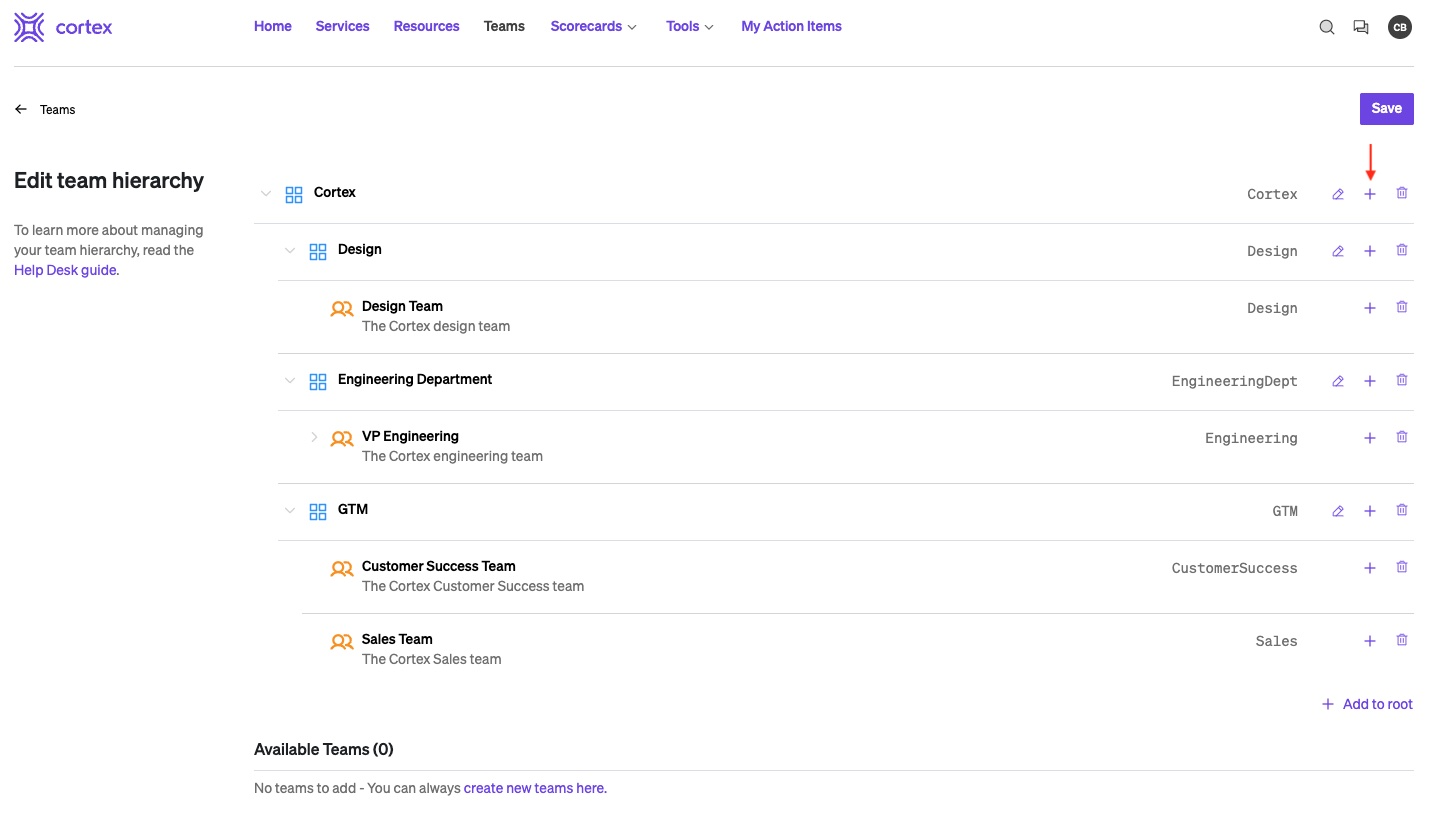 Every level has the ability to add children, which can be existing teams or new departments. Teams can be the children of departments, but they can also be the children of other teams. While this will be reflected in reporting, the hierarchy has no impact on service ownership.
In our example, the Backend Team, Frontend Team, and SRE Team are all children of the VP Engineering team. Reports on VP Engineering will give you insight into how all four teams' services are performing, but the VP Engineering team does not own the SRE Team's services because of the hierarchy.
Deleting a node
You can delete a node at any time by clicking the trash can icon: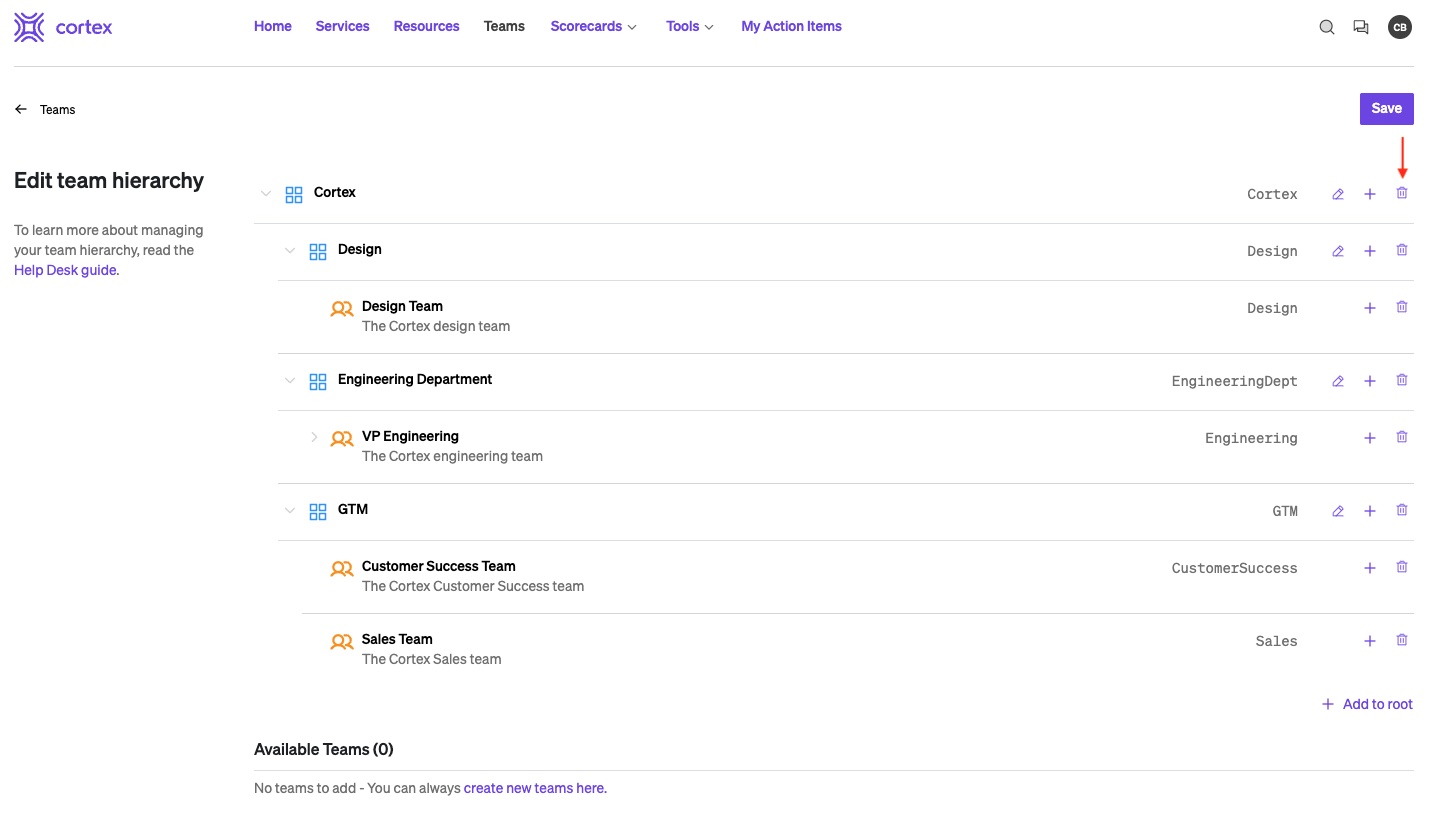 When deleting a node with children, you can delete only the node (which will move the children up a level), or you can delete the node and all of its children.
If any teams are removed from the hierarchy in the process, they'll appear under Available Teams again.
Department library
You can see all of your departments at any time by going to Departments in the menu bar.

Each of these departments has its own home page, just like teams do. This page will display essential information about the department, including its members and children teams.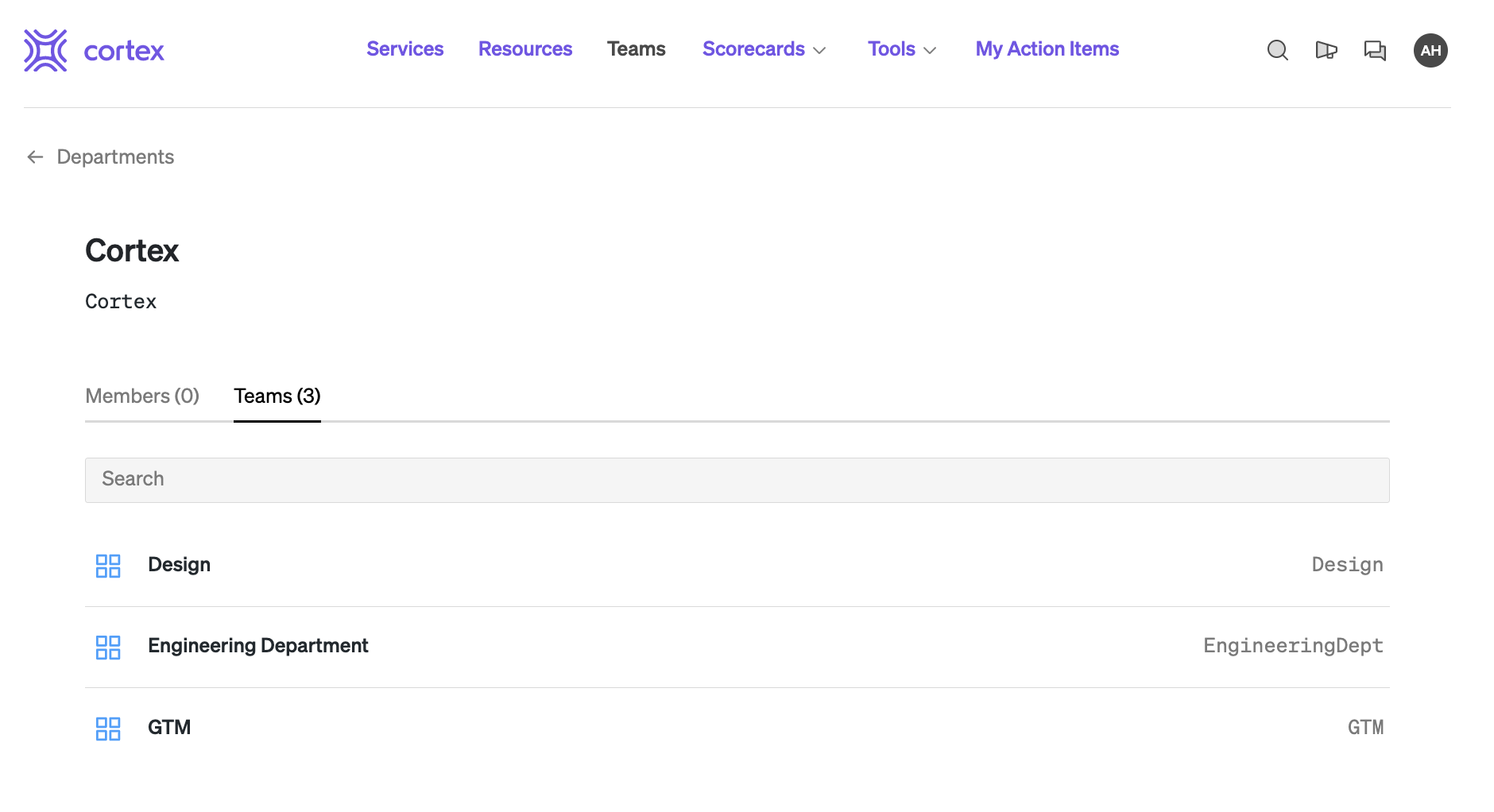 No matter what makes the most sense for your organization, Cortex offers flexible ways to structure your teams and departments so that you can gain as much insight as possible from your reports. There is no limit to the number of levels you can add within your hierarchy, so you can continue to make changes that accurately reflect the way you and your team members work.